Refundable tickets

Expert guides

Small groups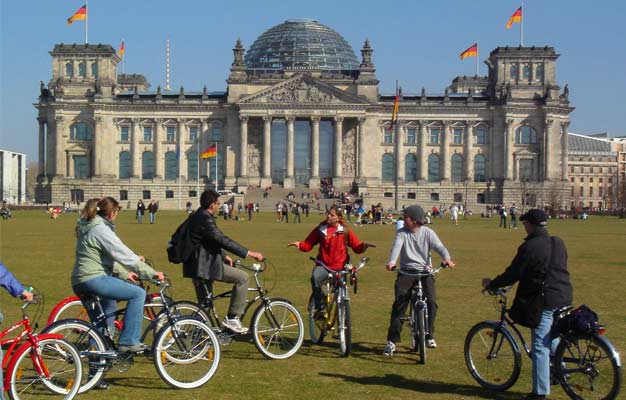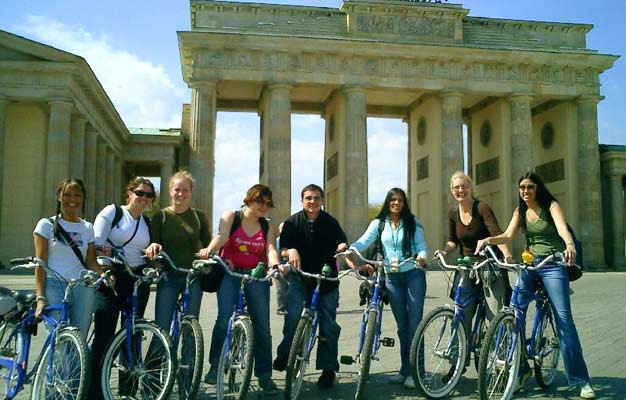 Berlin City Bike Tour
Meie All in One Berlin City Bike Tour on suurepärane võimalus õppida tundma selle suure linna ühes tour! Saada täielik orientatsioon Berliini minevikus ja tänapäeval - broneerida pileteid meie All in One Berlin City Bike Tour siin!

Umbes 4,5 tundi me katta ainult umbes 6 miili (10 km) ja lõpetada iga paarisaja meetri võtta Berliini vaatamisväärsusi. Tuur ei ole raske ja on rakendatav igas vanuses ja fitness tasandil ning on suurepärane võimalus näha kõiki Berliini!

See Tour sh. järgmised Berlin rõhutab, mis on seletatav meie giid ja arutatud kõik rühma: Berliini müüri Kolmanda Reichi poolt Berliinis Preisi Berliin, Brandenburger Tor, Marienkirchen, Marx ja ENGLES Platz, Hitleri punker, Potsdamer Platz, " Deathstrip ", mis jaguneb Ida-ja Lääne-Berliini, Checkpoint Charlie, Mälestusmärk mõrvatud juutidele Euroopas, Riigipäevahoone ja palju, palju rohkem!

Me peatuda lõunasöögi ajal Beer Garden Tiergarten park. Lõunasöök ja joogid lõunaks on ei kuulu komplekti. pilet hinnaga!

Nagu Berliini on väga suur linn ja ka väga lame, Berlin on ideaalne jalutamiseks jalgrattaga. Nii liituda meie All in One Berlin City Bike Tour ja vaata Berliinis parim viis - jalgrattaga!

TÄHTIS TEAVE:
- Kõik reisid toimuvad inglise keeles
- Kestus on ca. 4 ½ tunni
- Lahtiolekuajad: 1 märts - 30. aprill: iga päev kell 11:00. 1. mai - 30 september: iga päev kell 11:00 ja 16:00. 1 oktoober - 30. november: iga päev kell 11:00. 1 detsember - 28. veebruar: Kolmap Ja L kl 11:00
- Söök ja jook juures lõunapausi ei ole ka. hinnas
- Reisikorraldaja tegutseb vihm või sära, nii et palun kanda riideid vastavalt ilmale. Võite rentida vihma pontšod saadaval juhend 1 € iga!
- Lapsed peavad saama bike oma bike osaleda sellel tour!
- All in One Berlin City Bike Tour algab ja lõpeb teletorn on Alexanderplatz Berliinis.
Refundable tickets Refundable tickets
Refundable up to 48 hours before performance date. A cancellation fee of up to 20% pr. ticket may apply
Duration: 4 hours 30 minutes
Directions
Berlin City Bike Tour
Address
Berlin Fat Tire Bike Tours, TV Tower, Alexanderplatz 10178 Berlin
English helpdesk

+44 20 3870 3444
Need help with your booking? We will gladly answer your questions.