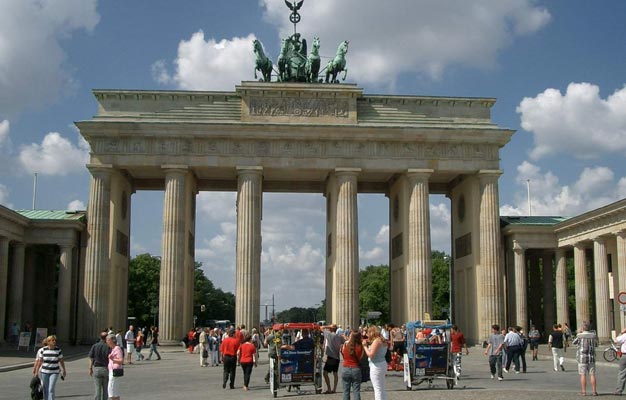 Berlin Walking tour
Avasta kõiki peamisi silmist Berlin selle Jalgsimatk Saksa Capitol. Õpi kõike Berlins ajalugu ja vaata, kui ilus see linn on praegu päev. Piletid Berlin Jalgsimatk saab broneerida siin!

Berliini Jalutuskäik on teie jaoks, kes tahaks näha kõige Berliini 3-4 tundi. Sa õpivad Preisi ja Imperial ajalugu Berliini, umbes pimedas, mil Berliin oli Kapitooliumi natsi-Saksamaa ja umbes Külma sõja ja kõik viis kuni 21. sajandi Berliinis.

Sa näed ja kuuled, millised on peamised silmist Berlin meeldi; Berliini müüri ala Hitleri punker, Brandenburger Tor, Checkpoint Charlie, Maapäeva hoone, Deadstrip, Unter den Linden, teletorn ja palju, palju rohkem. Sul on ka kuulda tuntud inimene, kes jätsid oma jälje Berlin nagu Albert Einstein, Marlene Dietrich ja JFK.

TÄHTIS TEAVE:
- Tuur on inglise keeles.
- Kestus on umbes 3 ½ kuni 4 tundi.
- Tuur on aprill-oktoober kell 10:30 ja 14:00 iga päev. Novembrist märtsini kell 10:30 iga päev.
- Ekskursioon algab väljaspool Restoran Weihenstephaner, Neue Promenade 5, 10178 Berlin. (Vastupidine Hackescheri S-Bahn Station).
- Noorte hind on kõigile alla 26-aastane.
- Alla 12-aastane on tasuta, kui nad on koos maksavad täiskasvanud.
- Tuur on vihm või särada! Nii et palun kanda riideid ja jalatseid vastavalt ilmale!
- Ei ole toidu või jookide sh. hinna sees!
- Berliin Jalutuskäik lõpeb Gendarmenmarkt lähedal Checkpoint Charlie.
Ticket categories
Youth price is for all under 26 years old.
Children under 12 years old is free if they are together with a paying adult.
Opening hours
Aprill.-oktoober. .: 10:30 ja 14:00 iga päev. November - Mar .: 10:30 iga päev.
Book now
Fantastic:
4.5
– 24

reviews
Opening hours
Aprill.-oktoober. .: 10:30 ja 14:00 iga päev. November - Mar .: 10:30 iga päev.
Directions
Berlin Walking tour
Address
Neue Promenade 3, 10178 Berlin
English helpdesk

+44 20 3870 3444
Need help with your booking? We will gladly answer your questions.