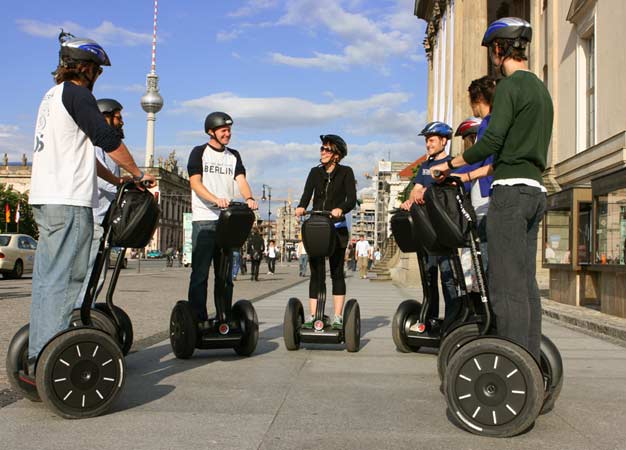 Berlin Segway Tour
Naudi Berliinis Segway, parim ja kõige lõbus viis uurida Berlin, ja see ei ole veel kõik lõbus, õpid palju Saksamaa pealinn samuti. Pileteid Berlin City Segway Tour saab broneerida siin!
Umbes 3 - 3,5 tundi meie
All-In-One City Segway Tour
näitame teile kõik peamised vaatamisväärsused Berliini, peatudes iga paarisaja meetri leotada neid, kuulda huvitavaid anekdoote, pildistada ja arutada Berliini ajaloost. Sinu teadmistega emakeelena inglise keelt kõnelev giid ka selgitada tänapäeva fakte ja elustiil tahke umbes Berliinis olles valmis vastama teie küsimustele.
Sa näed ja kuuled kõike
Berliini müüri
ja tiir läbi
Checkpoint Charlie.
Sa Stand peal
Hitleri punker
ja vaata
Reichstag
ja kuulda põletamine, mis viisid lõppkokkuvõttes Hitleri võimuletulekut. Mööda Segway sõitu siis ka näha ja kuulda
Brandenburgi värav, Marx ja Engels Platz, Postdamer Platz, Unter den Linden, "Deathstrip",
mis jagunesid Ida ja Lääne-Berliini,
Berliini Statsoper
ja palju, palju rohkem.
TÄHTIS TEAVE:
- Kõik reisid toimuvad inglise keeles
- Kestus on 3 kuni 3 ½ tundi, sh. 30 min. koolitust.
- Rasedad ja isikute alla 15-aastaseid ei saa osaleda selles tour, ja tõestada, vanuse peab olema näidatud nõudlus!
- Osalejad peavad kaaluvad 45kgs ja 115klgs osaleda sellel tour!
-Kõik Osalejad peavad oma mopeedi juhiluba või juhiluba!
- Te peate tasuma tagatisraha 200 eurot, - iga broneerimiseks (NOT isik) otse juhend enne ekskursiooni algust kas sularahas või krediitkaardiga tagatisraha ja see tagastatakse sulle tagasi lõpus tour , pakkudes oma Segway on tekitatud mingit kahju!
- Palun kandma riideid vastavalt ilmale ja kindla jalatsi Segway funktsioone töötab paremini korter kingad kui kõrged kontsad. -Berlin Segway Tours algab ja lõpeb teletorn, Alexanderplatz Berliinis.
Ticket categories
Can children participate?
No, children under age 15 are not permitted on this tour. Participants must be at least 15 years old.
Book now
Fantastic:
5.0
– 5

reviews
Refundable tickets Refundable tickets
Refundable up to 48 hours before performance date. A cancellation fee of up to 20% pr. ticket may apply
Duration: 3 hours 30 minutes
Directions
Berlin Segway Tour
Address
Berlin City Segway Tour, TV Tower, Alexanderplatz, 10178 Berlin.
English helpdesk

+44 20 3870 3444
Need help with your booking? We will gladly answer your questions.