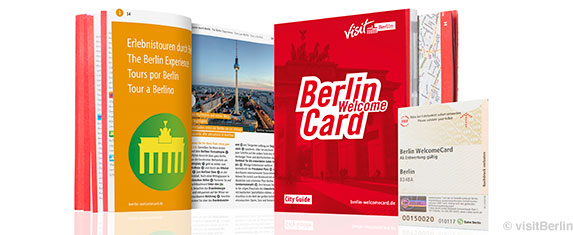 Refundable tickets

Price Match Promise

Bestseller









Berlin WelcomeCard
Berliini WelcomeCard on (peaaegu) kõik, mida vajate, kui külastate Berlin. Berliini WelcomeCard annab sulle piiramatu ühistranspordi (zone AB või ABC) ja suuri allahindlusi üle 200 muuseumi, ekskursioonid, restoranid ja heaolu.
Mida sisaldab?
- Unlimited ühistranspordi kasutamist (S + U-Bahn, buss, tramm, kohalik rong)
- Valige, 48, 72 tundi või isegi 4,5,6 päeva
- Travel sees tsoon Berlin (AB) või Berliinis + Potsdam (ABC)
- Lapsed kuni 6 aastat on tasuta
- 25-50% allahindlust üle 200 muuseumi, vaatamisväärsused ja restoranid
- Käepärane tasku juhend
- Tõmmake linnakaardi Berliini + Potsdam
Vali Berliini WelcomeCard
Valida saab 48 tunni, 72 tunni, 5 päeva või muuseum Island 72 tunni Berlin WelcomeCard kas Berlin (zone AB) või Berliini ja Potsdami (zone ABC).
Vaata alade kaart
SIIT!
Berliini WelcomeCards tsooni AB on vaild ühe täiskasvanud.
Berliini WelcomeCards tsooni ABC on vaild ühe täiskasvanud + max. 3 last (kuni 14 aastat).
Museum Island WelcomeCards ka tasuta sissepääsu kõigile muuseumid muuseum (Museumsinsel) kolme järjestikuse päeva jooksul. Mõned näitused on välistatud. Tasuta informatiivne brošüür on saadaval 5 keeles (inglise, saksa, itaalia, hispaania ja prantsuse keeles).
Kas lastele on soodustus?

Ei, aga laste vahel 6-14 aastat vana reisil tasuta koos täiskasvanud Berlin WelcomeCard tsooni ABC. Nooremad kui 6 aastat vana on tasuta, reisides koos maksavad täiskasvanud, kellel on kas mälukaardi tüübist.

Kuidas ma saan oma piletid?
Varsti pärast oma broneeringu lõpetamist oma e-pilet saata otse oma e-posti aadress. Lihtsalt printida ja viia see ükskõik mitu Külasta Berliini kontorid üle Berliini ja lennujaamas, kus sa vahetada oma Berliini WelcomeCard.
Vaata, kus Külasta Berliini kontorid
SIIT!
Ticket categories
Child tickets are free: 0-6 years unlimited, 6-14 years max. 3 children. Please choose ticket number first, then zone and duration. Price depends on selected zone and duration.
Adult (15+)
Opening hours
Teie Berliin WelcomeCard kehtib kas 48 tundi, 72 tundi või 5 päeva.
Book now
Fantastic:
4.6
– 286

reviews
Refundable tickets Refundable tickets
Refundable up to 48 hours before performance date. A cancellation fee of up to 20% pr. ticket may apply
Price Match Promise Price Match Promise
If you find a better price for this product within 48 hours of completing your booking, we will refund the difference in price in full.
Opening hours
Teie Berliin WelcomeCard kehtib kas 48 tundi, 72 tundi või 5 päeva.
What's included?
- Unlimited use of public transportation in either fare zones Berlin AB or zone ABC.
- Card valid for either 48 or 72 hours - or 4, 5 or 6 days.
- Up to 50% discount at over 200 attractions, museums, restaurants and more.
- A pocket guide with tour suggestions and a city map.
- Bring up to 3 children of the age of 14 and under - they travel free of charge.
English helpdesk

+44 20 3870 3444
Need help with your booking? We will gladly answer your questions.