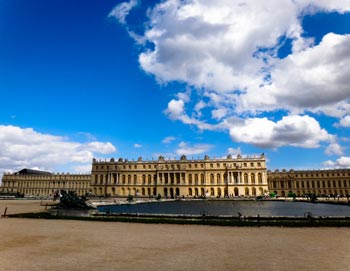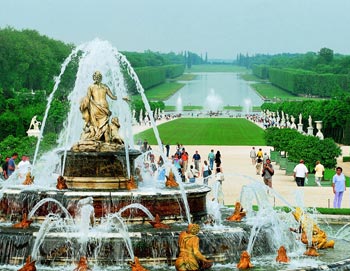 Versailles: Skip the line & audio guide - 4 hours
Külasta Versailles Palace (koos audio guide) ja tema kaunis aiad ise!

See on Edasi Pariisist Versailles palee koos transpordi luksus ja konditsioneeriga treener!

Alates 1661, Louis XIV ehitatud, mis sai kõige prestii elukoht kõik kohtud Euroopa maailmakuulsa arhitekti ja sisekujundaja nagu Le Vau, Mansart Le Notre eest aiad.

Et suurendada oma visiidi pakume erilist helilindid, mis selgitavad erinevaid tahke elu Versailles ajal valitsemisaeg Louis XIV, «Sun King. »Lindid treener aitab teil planeerida oma vaba aega, et külastada Château ja aiad.

Teie pääset (kaasa arvatud) annab teile juurdepääsu omal käel: Royal Apartments, Hall of Mirrors, Dauphin on ja tema naise Apartments & Gallery of Battles.

Audiogiidi antakse üheksas keeles ka .: prantsuse, inglise, saksa, hispaania, itaalia, portugali ja jaapani.

NB: piletit Versailles Gardens (8 €) ei kuulu pileti hind, kuid tuleb tasuda kohapeal!

Kestus: 4 tundi.

Väljumisajad: 08:15 / 08:45 või 02:00. Palun olla lähtepunkt vähemalt 20 min. enne algust.

Vaatamisväärsused Versailles / Versailles Vision algab ja lõpeb kell 2, Rue des Pyramides, 75001 Paris!
Book now
Very Good:
3.9
– 62

reviews
Refundable tickets Refundable tickets
Refundable up to 48 hours before performance date. A cancellation fee of up to 20% pr. ticket may apply
What's included?
- Skip the line-ticket to the Versailles Palace.
- Transportation from Paris to Versailles - and vice versa.
- An audio guide.
Directions
Versailles: Guided tour w. skip the line
English helpdesk

+44 20 3870 3444
Need help with your booking? We will gladly answer your questions.