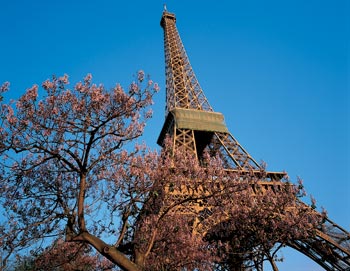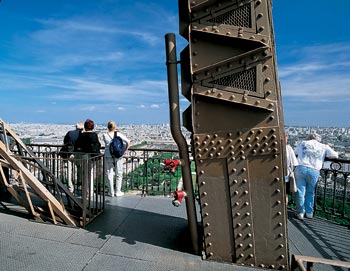 Eiffel Tower: Audio guided tour & cruise - 5 hours
See 3-suunaline ekskursioon, "Paris Panoramic Tour", annab teile võimaluse avastada Paris, selle ajalugu ja suur hoonete luksus treener alates Reisi ette Seine ja Eiffeli torn.
Esimene samm on bussiekskursioon audio kommentaaridega (saadaval 13 keeles sh. Inglise, hispaania, prantsuse, saksa, itaalia, hollandi keeles), nii et sa kuuled ajalugu Paris ja imetlen tema peamine väljakud, sillad, peatänava ja ehitised , näiteks:
Opera Ruut, Concorde, Champs-Elysees, Arc de Triomphe, Trocadero ruut, Invalides, Pont-Neuf, Bastille väljak ja ooper, Notre Dame'i katedraal, Luksemburg aiad, Saint-Germain des Prés
ja
Eiffeli torn .
Buss osa sellest ekskursioon lõpeb jalamil Eiffeli torn, ja siit meeskond ootab teid pardal üks kolmest trimaraanid kuuluvate
"Bateaux Parisiens",
et üks tund
püsikiiruse mööda Seine
teine osa tour!
Täiesti klaas paigaldatud, terrass taga ja trepid kõik ringi, need paadid on täiesti mõeldud avastada ja imetleda rikkaliku arhitektuuriga linn. Selge ja ergas kommentaaris kaasas ja muusika vihjata erinevates kohtades ja aegadel, on saade läbi üksikute telefone (saadaval ka 13 keelt sh. Inglise, hispaania, prantsuse, saksa, itaalia, hollandi).
Püsikiiruse vaatamisväärsusi lõpeb ka jalamil Eiffeli torn, kuhu vahele joon ja minna otse liftiga sõita kuni
2. korrusel Eiffeli torn,
mis annab teile imeline panoraamvaade Paris, mis on lõplik osa "Paris Panoramic Tour". Kui te soovite, võite osta pileteid 3. korrusel Eiffeli torn seal.
Kestus:
5 tundi. (Sõltuvalt sellest, kui kaua te kulutama Eiffeli torn)
Väljumisajad:
09:00, 12:00 ja 14:45. Palun olla lähtepunktiks vähemalt 20 min. enne algust.
* NB: Harvadel juhtudel Eiffeli torn on külastajatele suletud hooldustööde tõttu, kohalike streik Pariisis või Eiffeli torn, transpordiprobleemid jne sellistel juhtudel Eiffeli torni külastus asendatakse visiit Montparnasse torn Pariisis. Me ei saa hoiatas ette, kuid siis öeldakse Pariisis, meie agent, enne ekskursiooni algust. Me ei saa vastutada nende viimase hetke muudatused ettenägematutel Eiffeli torn hooldus, kohalikud streik Pariisis ja / või Eiffeli torn, transpordi probleeme jne ja kui te ei saa sellega nõustuda, palun ärge broneerida selles tour, sest ükski tagastamist anda, kui Eiffeli torn asendatakse Montparnasse Tower!
Vaatamisväärsused, Cruise ja Eiffeli torn / Paris Panoramic Tour algab kell 2 Rue de Pyramides 75001 Paris ja lõpeb Eiffeli torn!
Book now
Fantastic:
4.2
– 315

reviews
Refundable tickets Refundable tickets
Refundable up to 48 hours before performance date. A cancellation fee of up to 20% pr. ticket may apply
Save time – Skip the line
What's included?
- Skip the line-ticket to the Eiffel Tower.
- A bus tour through Paris.
- A cruise on the Seine.
- An audio guide.
Directions
Sightseeing, Cruise & Eiffel Tower
Address
PARISCityVISION 2 Rue des Pyramides 75001 Paris
English helpdesk

+44 20 3870 3444
Need help with your booking? We will gladly answer your questions.